FREE Samples of the kind of photos we do.
Click on the thumbnails to see the full sized pictures














Video clips in the member's section are on average 2 or 3 minutes long. Try this free sample Quicktime video clip. If it doesn't work for you, you will NOT be able to view our video clips.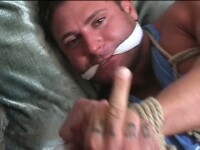 Every week we put up new sets of great looking guys tied up and gagged in a variety of ways. There's always 2 years of content. Over 300 photo sets and short video clips. Whether you like your men naked or clothed or somewhere in between, we've got something you'll like! Each photoset contains full body shots as well as closeups of bound hands, tied feet, and gagged faces. One set per week features either rear or frontal nudity. We make a constant effort to fulfil many particular interests. We have men bound to chairs, hogtied, spread eagle, in suits and ties, jeans, athletic gear, briefs, boxers, wearing socks, boots, sneakers, and barefoot. We use different kinds of rope, handcuffs, tape, and leather items to restrain the guys. You like gags? Well, these men are tightly gagged with anything you can think of, duct tape, bandanas, neck ties, their own socks, rags, leather plugs, o-rings, hand over mouth, and ballgags. If this sounds like fun then join today!

To PURCHASE a membership to CapturedGuys.com starting as low as $16.95, click here